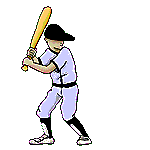 since September 14, 2002.

This page was last updated on: August 17, 2020
University of New England

Steve Pinner, Commissioner

Ed Macarelli, Assistant Commissioner

NEW ENGLAND CLUB BASEBALL ASSOCIATION

Glen Humes, Assistant Commissioner

Three Rivers Community College

University of Massachusetts Boston

College of the Holy Cross

Franklin Pierce University

It is with great disappointment that we must cancel the 2020 season due to COVID-19.  Stay tuned for updates on events for the coming spring as well as new and returning members for the 2021 season!